Now that I have a place to live, I need basic furniture. Things to cook with and sleep in, most importantly. (Yes, thanks for the offer but I probably don't want to cook with and sleep in you, humorous though the suggestion would have been if I'd waited for you to make it. You know who you are. You know what you doing.)

In looking at online Argos1 catalogues for the sort of sundry things you normally take for granted, I found myself briefly tempted by the idea of combining these two atrocious products with other products of similar nature.

Bah, copyrighted images, so here are artists renditions of the products, linking to the actual products.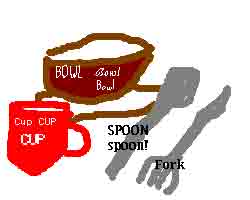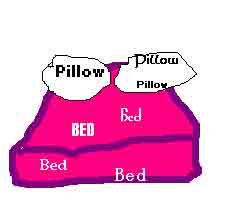 .


But instead I think I'll just try to hunt some crockery, cutlery and duvet-covers that aren't horrifying, instead. In other notes, it's amusing how in populating a house with furniture I seem to be trying to hermetically seal it, because all the anti-allergen products seem like much better ideas to me. Steaming vacuum, latex-cored mattress, bamboo-fiber bedding, all stainless steel kitchenware, dephasing flux-capacitance air-polarising entryguard... But really it's just that the mattress and bedding are nicer, the steamer might make the living room lose its slight dog-smell, stainless steel kitchenware is always best except for cast iron, and the imaginary entryguard keeps Jehovah's Witnesses away.

1. Since getting back to the UK it has struck me how completely unintuitive it is to wander around the shopping centres. If you didn't already know (and some of you probably don't) then what sort of a place would you say each of the following are - in each case this is all the shopfront says, and in some cases there's no window display: Natwest, JVC, HSBC, Barclays, Thomas Cook, RBS, Boots, Marks and Spencer, Frank Innes, Stuart, Argos, Woolworths, Sainsburys, Tesco, WH Smith, Orange, Clarks, Bairstow Eves, Waterstones, Westfield, Adams, Alliance and Leicester, Barratts, BHS, Birds, Dixons, Thorntons, Wilkinsons. Why can't they bloody call themselves "Bob's Supermarket", eh? There is one of this list I pass on my way into town and I still don't know what it is. [02:08]