Lessons for the week

1. Don't say nice things about a game (such as Warhammer 40000: Dawn of War) in your blog, because if you do then the very next level you finish will be the end of the campaign, revealing that there is no campaign for the other races and the levels don't get more interesting, which will swing your opinion of the game firmly to the "oh, it's rubbish then, even if some of the concepts were good" camp.

2. After chopping up high-end-spicy peppers such as habaneros or serranos into very small pieces, don't throw those very small pieces into a hot frying pan, unless you want your sinuses (and the sinuses of everyone in rooms sharing air with the kitchen) violently cleared. I wonder whether a process similar to this is used in the collection of pepper-spray. Combine this effect with doing the same thing to onions, for a laughing, crying, coughing festival of goo coming out of your face.

3. Dell laptop keyboards are bad for your wrists, especially if you use shortcut key-combinations a lot. While you rest your pain-wracked left wrist after using such a keyboard for a while, you probably shouldn't just type everything with your right hand alone, since one-handed typing even on a good keyboard is not very good for the wrist of that hand.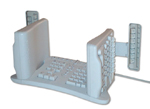 Safetype Keyboard

On the subject of keyboards, I want to combine several keyboard types into something that would be comfortable for me to use, for both laptop and desktop. This site shows the ergonomic keyboards of today, of which the Safetype looks like it would be pretty good for me, and a nice idea for a laptop - that you could pop up the two keyboard halves and have other input devices such as a tablet underneath the keyboard - but of course, such a thing doesn't exist for laptops, and I don't like using desktop machines, so that's out until I'm rich enough to commission a laptop to my own design.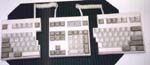 Ergoflex Keyboard


The ErgoFlex looks pretty much like what I want, but given the ability to separate a keyboard into three pieces I want even more flexibility than that - I want each part to be part of a Roll-up Keyboard. The three parts as they are are no use at all for laptop usage because there's nowhere to put them, but if they were soft and curvy, I could happily type with the left half of the keyboard mounted on the right of my waist and vice-versa, in arms-folded position, maybe occasionally shifting the parts onto my shoulders so as to be able to type in cliché vampire position for variety. I'm pretty sure I'd get used to the weirdness of crossed-over typing, and for wrist and arm comfort purposes, such positions would be ideal. But having blocks of hard plastic mounted around your torso just doesn't seem quite so good. Also, all the split keyboards seem to put the arrow keys with the numeric keypad, rather than near the right hand, which might be a bit suboptimal for programming. Not sure about that though - arrow keys are awkwardly placed normally, so it wouldn't really be any loss to have to move the arm for them. Also, having soft keyboards mounted on your torso would be cool and cyberpunk, though that would also have the disadvantage of meaning I'd want to get glasses-mounted screens and eyeball controlled mouse pointers and sharks with lasers on their heads. [21:40]